I actually don't really like to cook, but I love to experiment with new recipes. Now I get myself confused :) Well, I guess what I meant to say is that I prefer to cook when I'm in a good mood to cook, not because "I have to cook today". But because I mostly "have to" cook almost daily, I feel like "I don't really like to cook". Hmm..I hope that's make sense to you ;)
Anyway, lately I've been wanting to experiment making my own
cheese
. But I probably have to wait until we actually move to Indonesia. So, basically, one of my "Stuffs to bring to Indonesia lists" believe me or not is "vegetable Rennet". By the way, we're thinking to move to Indonesia. We're hoping that we can move this year or early next year the latest.
It's been really slow process toward getting us to move there. Not because we're not excited, it's the opposite, but we're just so busy with our daily life already at the moment :(
Anyway, I just found a very interesting site called
Sustainable Eats
. It has so many wonderful stuffs to read & experiment with. This include making your own
Soy Sauce
!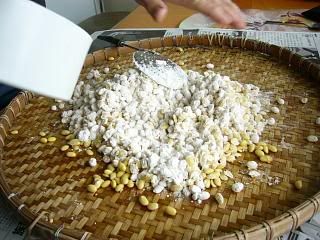 #